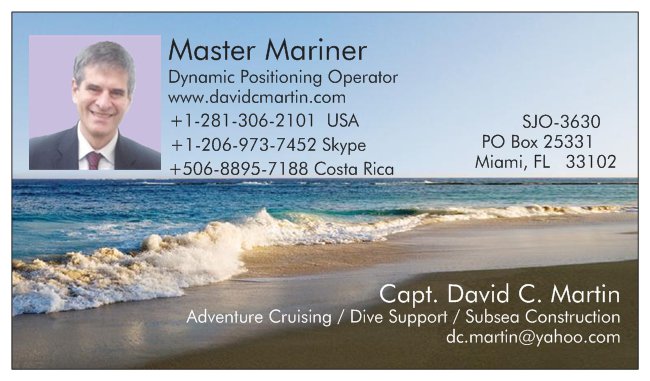 Maritime Resume Return Home
Master Unlimited & Dynamic Positioning Operator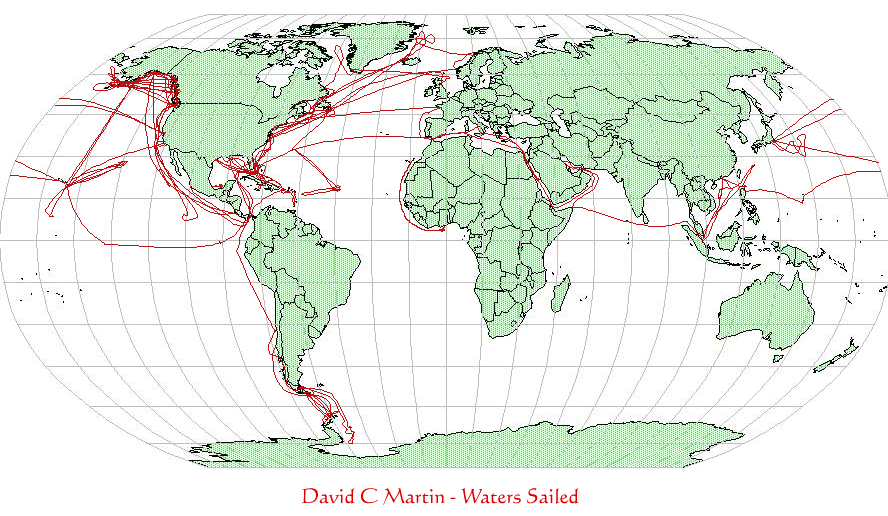 ---
David C. Martin
P.O. Box 25331, SJO-3630, Miami, FL 33102-5331
Telephone: +1-281-306-2101 Email:
---
SPECIALTIES
Dynamic Positioning

Dive Support Vessels

ROV Vessels

Heavy Lift

Pipe Lay

Semi Submersibles

Survey Vessels

Research Vessels

Seismic Vessels

Platform Supply Vessels

Ice Breakers
QUALIFICATIONS
Hold a USCG License as Master of Steam or Motor Vessels of Any Gross Tons Upon Oceans as well as Master of Towing Vessels Upon Oceans and the Western Rivers. Also hold an STCW-95 Certificate, including GMDSS. Unlimited Dynamic Positioning Operator's Certificate. Ex-US Coast Guard.
EXPERIENCE
MARINE INDUSTRY
Thirty-one years of seagoing experience, twenty-seven years as a licensed merchant marine officer. Broad experience in operating a wide variety of vessels from the Arctic and the Tropics, to the Antarctic. Extensive experience sailing in the Gulf of Mexico, Caribbean, and Alaskan waters from Dixon Entrance to St. Matthew Island.
LEADERSHIP
In charge of officers and crew as Master of the 340 ft. multi-purpose subsea vessel

SWORDFISH

, the 323 ft. dive support vessel

KESTREL

, the 252 ft. dive support vessel MYSTIC VIKING, 300 ft. dive support vessel GLOBAL ORION, 213 ft. dive support vessel EPIC DIVER, 270 ft. seismic survey vessel BGP PIONEER, 257 ft. freighter SUNMAR SKY and the cruise vessel SPIRIT of ALASKA. Relief Master aboard the seagoing tug BARBARA ANDRIE. . Relief Master/Chief Mate on oil spill recovery vessel WASHINGTON RESPONDER. Chief Mate aboard ammunition ship PEMBINA. Managed 21 man deck department as Chief Mate aboard the SS OCEAN PHOENIX. Supervised the deck department consisting of 9 deckhands and 3 ship's officers as Chief Mate of the 52,000 ton semi submersible construction derrick vessel McDERMOTT DB-101. Chief Mate of R/V ROBERT D. CONRAD. Four years in U.S. Coast Guard, three as a non-commissioned officer in the navigation and operations departments aboard High Endurance Cutters and Icebreakers.
DYNAMIC POSITIONING
DP Master Unlimited MPSV SWORDFISH operating Kongsberg KPOS-21, DP Master Unlimited DSV KESTREL operating Kongsberg KPOS-21, DP Master Unlimited DSV MYSTIC VIKING operating Kongsberg SDP-521, DP Master Unlimited DSV GLOBAL ORION operating Kongsberg SDP-22, DP Master Unlimited DSV EPIC DIVER operating L-3 ASK-6000. DPO aboard PSV EMILY CANDIES, operating Alstrom A-Series, the ROV vessel CHLOE CANDIES operating Kongsberg SDP-22, aboard 47,000 ton, DP Class 3 semi submersible drilling DP-MODU OCEAN CONFIDENCE, operating Nautronics ASK 5003 DP system, and aboard the 497 foot, 29,000 ton DP Class 2, heavy construction derrick vessel McDERMOTT DB50 operating GEC DP equipment. Trained as a DPO at the Kongsberg - Simrad training facility in Houston, Texas. Hold an Unlimited Dynamic Positioning Operator's Certificate.
MARINE MANAGEMENT
Logistics Manager and Cargo Superintendent for J Ray McDermott in Argentina, managing logistical support and cargo operations in Patagonia in support of a 125 million dollar offshore oil and gas construction project for the southern-most oil refinery in the world. Operations Manager for Emerald Resource Management, managing logistical support for two 3000 ton factory trawlers operating in the Bering Sea. Operations Manager for Coastal Transportation, Inc., a marine transportation company operating freighters in service to Alaska. Also served as Cargo Superintendent, Purchasing Agent, and Ship owner's representative for three shipyard periods. Wrote shipyard repair specifications, solicited bids, awarded and administered contracts, supervised shipyard work, negotiated billing disagreements.
POLAR OPERATIONS
Second Officer aboard the research vessel/icebreaker NATHANIEL B. PALMER during the vessel's voyage deep into the Weddell Sea in 1992. Studied ice pilotage under Captain Ewald Brune. Two years aboard U.S. Coast Guard "Wind Class" icebreakers deployed in the Eastern Arctic as navigator and ice helmsman. Participated in a two ship seismic survey of East Greenland up to latitude 76 North in 1983 as watch officer. As master, conned a 257 ft. freighter in the ice pack of the northern Bering Sea during the winter of 1989-90. Deckhand and Zodiac operator aboard R/V HERO during the Antarctic summer of 1977-78.
MARINE SCIENCE
Four years as a ship's officer aboard the scientific research vessel ROBERT D. CONRAD (Third Mate up to Chief Mate). Two years with NOAA, Nation Ocean Survey, as Navigator (Quartermaster). Extensive experience in marine data gathering operations, including: multi-channel and single-channel seismic; Seabeam wide swath bathymetric mapping; coring; heat-flow; SeaMarc deep tow sidescan sonar; CTD casts; plankton tows; biological survey and sample gathering; marine mammal observations; meteorological observations; glaciology; as well as marine mapping and surveying.
SHIP HANDLING
Have operated and maneuvered and am familiar with the following types of vessels:
1115 ft single screw ULCC (Valdez / Panama run)
680 ft single screw Container Ship
497 ft DP Class 2 Construction Derrick Vessel
480 ft semi submersible Crane Vessel
483 ft single screw Break Bulk Freighter (supporting Operation Desert Storm)
450 ft twin screw Integrated Tug/Barge (Tanker carrying gasoline)
340 ft z-drive DSV ROV Sub Sea Construction Vessel
324 ft single screw Ammunition Ship
323 ft z-drive DSV ROV Sub Sea Construction Vessel
308 ft twin screw Icebreaker/Research Vessel
300 ft z-drive DSV ROV Sub Sea Construction Vessel
280 ft z-drive ROV Sub Sea Construction Vessel
270 ft single screw Seismic Survey Vessel
260 ft z-drive Platform Supply Vessel
260 ft twin screw Research Vessel
257 ft single screw Refrigerated Freighter (azimuth thruster)
252 ft twin screw Dive Support Vessel
213 ft twin screw Dive Support Vessel
210 ft twin screw Research Vessel
208 ft single screw Research Vessel
208 ft twin screw Oil Spill Recovery Vessel
190 ft twin screw Aerostat Vessel
143 ft twin screw Passenger Vessel
115 ft single screw Oceangoing Tug (towing rail barges in tandem tow)
115 ft twin water jet High Speed Passenger Ferry (34 knots from Seattle to Victoria)
110 ft single screw Oceangoing Tug (towing barges, setting anchors)
110 ft twin screw Salmon Tender
85 ft twin screw Oceangoing Tug (towing tandem tow)
38 ft single screw Patrol Vessel
35 ft single screw Passenger Vessel (Whale Watching 20 pax)
CARGO HANDLING
Cargo Superintendent for J Ray McDermott in Argentina, supervising preparation of pipeline storage yards, discharge and storage of pipe from freighters in a remote port in Patagonia. Inspecting and documenting cargo damage and solving logistical and bureaucratic problems. Captain of a 257 ft. break bulk refrigerated freighter, the SUNMAR SKY, from 1988 to 1990. Hired and supervised a team of 30 people engaged in marine cargo operations as Operations Manager and Cargo Superintendent with Coastal Transportation, Inc. Supervised loading and unloading of general cargo, dry, chill, and freeze, aboard the company's four vessels. Planned loads and off-loads, coordinated with ground transport companies and customers.
GOVERNMENT
Maritime research assistant to Congressman Don Bonker, Member, House Merchant Marine and Fisheries Committee. Attended and assisted at hearings, researched maritime issues, wrote papers, and prepared analysis. Acted as technical representative with a high technology marine defense contractor. Preparing proposals and bids; planning training courses; and handling marketing and technical correspondence. As a technical writer for Boeing Military Aircraft Co. edited purchase specification for a 25 million dollar autoclave system used for manufacturing composite components for the B-2 Stealth Bomber.
TECHNOLOGY
Six years experience administering and supporting operating systems and distributed computer networks. Extensive experience with a wide variety of standard and custom software, and Intranet & Internet web development.
Have operated the following equipment: Marine radar; ARPA; GPS navigation systems; integrated navigation systems; Transit Satellite navigation systems; LORAN C; sonar systems; satellite communications systems; telex; SSB radiotelephones; VHF-FM radios; IBM, Apple, Silicon Graphics, and VAX computer systems utilizing a wide variety of general and specialized software.
LANGUAGES
English: native language
Spanish: very fluent (speak, read, and write).
REFERENCES
Excellent references available upon request.
---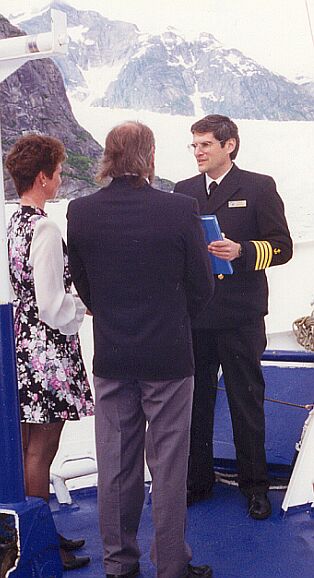 Capt. Martin conducting a marriage ceremony in the ice
in front of the LeConte Glacier in SE Alaska aboard the
Cruise Vessel SPIRIT of ALASKA.
---
Copyright © 1999 - 2012 David C. Martin